Computer Science and My Dream
Having never used a computer, the lesson in the "The Dream Boat" project has brought Ut closer to her dream.
Duong Thi Ut, student in grade 7 at Minh Khai Secondary School, Ha Long city. In the youth training session within the framework of "Dream Boat" project, we were attracted by a girl with sparkling eyes and excitement on her face when she passionately draws with pen and mouse on computer.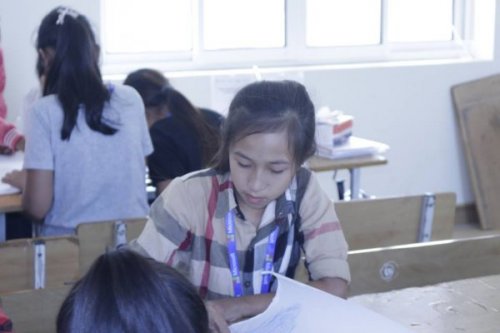 Ut in classroom of "Dream Boat" project
Ut was born and raised in a three-children family. In the past, her family lived in a fishing village on the sea, according to the city policy, her family is resettled in area 8, Ha Phong ward, Ha Long city. Her parents still work in the Vung Vieng fishing village, come back home only 3 or 4 times per month, Ut and her siblings have to take care of each other.
She feels lucky to go to school, she said "I have never used a computer before. The "Dream Boat" project has come to the area where I live as an arranged accident, giving me opportunity to get acquainted with the computer and create dream-presented product by my self". Ut is keen on trying Paint - a simple drawing tool, but it's an amazing world to her.

Two pictures which drawn by Ut with instruction from teachers
I like drawing and dream of being a fashion designer. "With computer, I will design by using professional software, I will turn ideas in my mind into colorful vivid image on the screen"
Be guided by the teachers, Ut and her classmates constitute Ha Long Bay by Kodu. These early programming experiences helps to open their interest in computer science, develop their critical thinking, and encourage them to learn more. From a girl who doesn't know anything about technology, Ut confidently takes in charge of being teaching assistant in the second lesson of the project in Ha Phong ward, helping classmates learn and practice with computer.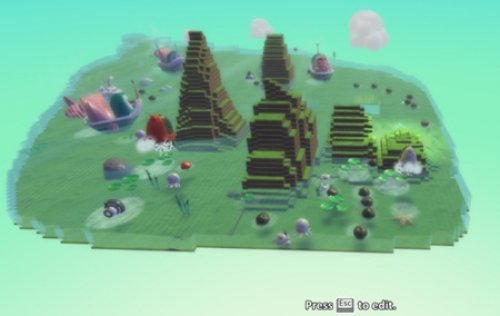 Programming Product created with Kodu by Ut and her classmates
Nurturing and spreading dreams in the community
"Dream Boat" project is funded by Microsoft group, computers are aided by Acer company, and the project is co-organized by Center for Marine Life Conservation and Community Development (MCD) and Vietnet Information & Technology and Commnication Center (Vietnet-ICT) and local partners.
The project started in early 2017 in Ha Long has given wings to dream to not only Ut, but also 200 teenagers aged from 12 to 24 years old, children of resettled fishing families, or remote areas with difficult living conditions, few opportunities to learn and access to computer, information techonology (IT) also basic knowledge of life. "Dream Boat" project gives students pratical and attractive learning sessions on essential soft skills, IT knowledge and computer science, marine environmental protection and climate change.
Ms Le Hong Nhi, Head of Public Relations Department of Microsoft Vietnam shared: "In the powerful wave of technology development, Microsoft want to ensure the equal access for everyone, especially teenagers from remote areas. They not only have chance to access to technology but also are equipped with necessary skills to broaden their knowledge, pursue learning and job opportunities in the future. As the name "Dream Boat", the project classes are bringing coastal-living youths closer to technology and also their dreams".